The Workshop
This workshop is designed to help women and men take the next step, no matter where they are in the process of untying the knot. Second Saturday deals with the legal, financial, family and personal issues of divorce in a logical, yet compassionate way.
With the guidance of trained professionals, workshop participants gain greater understanding of the confusing divorce process.
Divorce Workshops: You've Come to the Right Place

History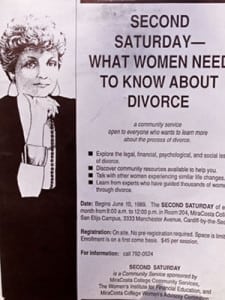 Second Saturday offers non-biased financial, emotional and legal advice from qualified local professionals, providing people with the knowledge, support, resources and trust that they need to survive the divorce process and move forward with confidence toward a new life.
The flagship San Diego workshop, started in 1989,  has helped over ten thousand women while raising nearly $400,000 for the San Diego community in the form of scholarships and educational programs.
Building on that success in San Diego, Second Saturday Divorce Workshops are now in locations around the country, helping to empower even more individuals and families.
Second Saturday was created by the non-profit Women's Institute for Financial Education (WIFE.org), the nation's longest-running non-profit devoted to female financial literacy, whose co-founders Candace Bahr and Ginita Wall are true champions for women in their quest for financial knowledge.
Littleton Second Saturday
St Philips Lutheran Church
7531 S. Kendall Blvd
Sanctuary Room
Littleton, CO 80128
Dates and Registration
Workshop Program
When:
The Second Saturday of each month
See Workshop Dates
Registration and Welcome:
8:30 a.m. — 9:00 a.m.
Workshop:
9:00 a.m. to 11
Cost:
$50.00 at the door
Payment Method:
Online: Credit Card
At the Door: Cash, Credit Card or check
Walk-ins welcome!